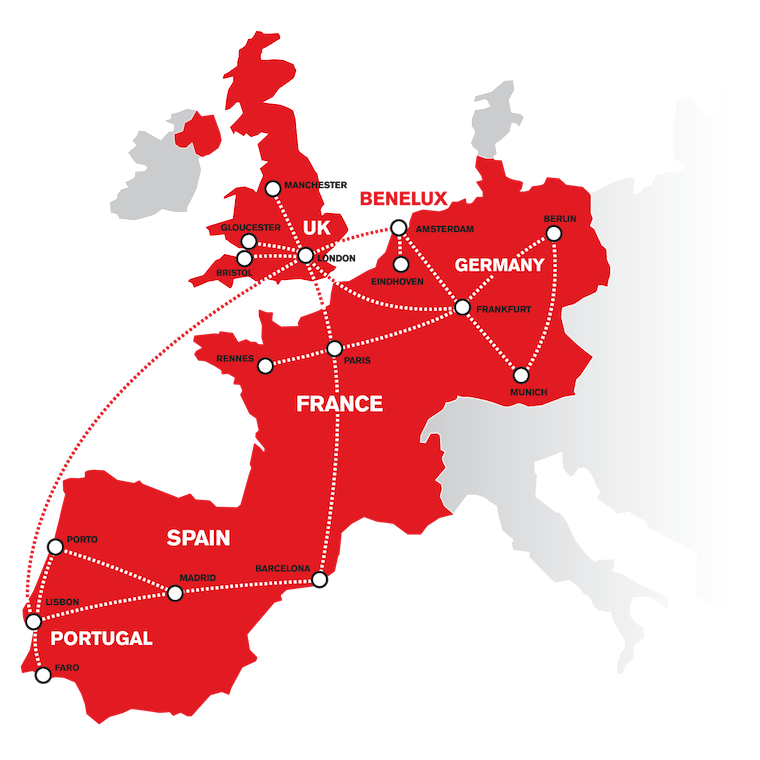 Claranet has 3 Network Operation Centers (NOC's) in Portugal (Maia, Lisbon and Faro) integrated into a network that covers 100% of the country and is one of the majors European private, providing more than 1 million users by its redundant network of high performance fiber optic that interconnects each of the NOCs in countries where it operates.
The network is also interconnected with the main European Peering Exchanges such as the LINX (London), DeCIX (Frankfurt), PARIX (Paris), MAE (Frankfurt), FreeIX (Paris), AMS-IX (Amsterdam) and GigaPIX (Lisbon) and also to major global Internet backbone, to ensure the best performance of IP traffic. Claranet has also several private peering agreements.
International connectivity is provided by fiber circuits with Gigabit capability, redundant, using the most direct routes to London, Madrid or Paris, to guarantee the lowest latency on existing national networks. In particular, we highlight the existence of the circuit Portugal - England, implemented in a fiber optic submarine cable in the direct route, which guarantees the shortest latency available in Portugal (<30 ms).
Claranet has an infrastructure with robust, proven architecture and a redundant network that provides better access to both National and International.